Constance Bond and Tamara J. Eastman
(Footnotes, editing and design by John Richard Stephens.)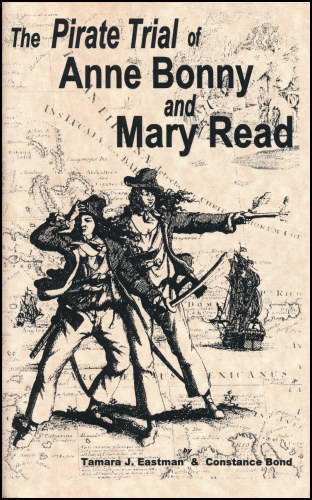 Fern Canyon Press, Cambria Pines by the Sea, CA, 2000, booklet.
The covers of this booklet were printed on three different types of card stock--
light-gray parchment, dark-gray parchment and beige parchment.

Throughout the centuries pirates have captivated imaginations as no other figures from history could, and the fact that some pirates were women has astonished and intrigued people even more.
Anne Bonny and Mary Read were two of the most notorious female pirates to ever wreak havoc on the high seas.
Tough and courageous, they became legends during their own lifetimes. The myths surrounding Anne and Mary have become wilder in the nearly 300 years since they were captured, put on trial in Jamaica, and condemned to hang on the gallows.
This booklet explores the actual events that lead up to the capture of John "Calico Jack" Rackham and his crew, including his "brace of hellcats." It also includes
the complete, unabridged transcript of their trial
. Read the eyewitness accounts of captives who provided detailed information on these women pirates, including one victim who testified that she nearly lost her life at the hands of Anne Bonny! Going beyond the myths surrounding the women and placing them in a true historical context, find out how various primary source documents--such as the court transcript and personal correspondence from the governors of the Bahamas and Jamaica--have helped lay to rest many of the myths that have followed these women through the centuries. Read what may have actually transpired inside the Jamaican jail--including new information regarding Mary's death--and how ongoing research has already uncovered some
fascinating new facts
regarding Anne Bonny's mysterious disappearance from her jail cell, and what transpired once she found her way back to the Colonies.
The Pirate Trial of Anne Bonny and Mary Read
captures the true spirit of these courageous and remarkable hellions, bringing back to life these legendary figures from the Golden Age of Piracy.