Wildest Lives of the Frontier
America Through the Eyes of
Jesse James, George Armstrong Custer,
and Other Famous Westerners

Edited by John Richard Stephens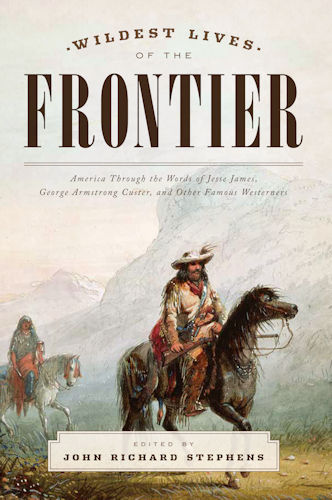 TwoDot Books (Rowman & Littlefield Publishing Group), Lanham, MD, 2016, softcover and ebook.


By and about the greatest celebrities of frontier America, these are the stories of their adventures told in their own words through excerpts from autobiographies, articles they wrote, newspaper interviews, private journals, intimate letters, and court testimony.

Read their own personal accounts as told by:



Daniel Boone
Lewis and Clark
Sacagawea
Davy Crockett
Black Hawk
John C. Frémont
Kit Carson
John Sutter
Buffalo Bill
Mark Twain
Jesse James
Cole Younger
Frank James
George Armstrong Custer
Crazy Horse
Sitting Bull


This book offers a rare glimpse into the world of these legendary figures as they describe their own heroic exploits, fierce battles, deadly gunfights, horrible crimes, thrilling discoveries, and harsh dangers of life on the frontier of the American West, while revealing the roles they played in the notable events that made them famous.
Retail sites

where you can get this book
The main page