Commanding the Storm


Civil War Battles in the Words of the Generals Who Fought Them


Edited by John Richard Stephens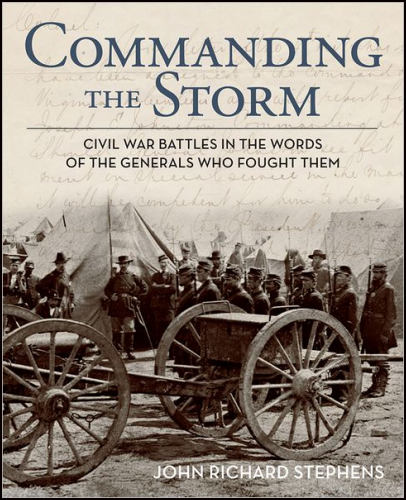 Lyons Press (Rowman & Littlefield Publishing Group), Lanham, MD, 2012, hardcover and ebook.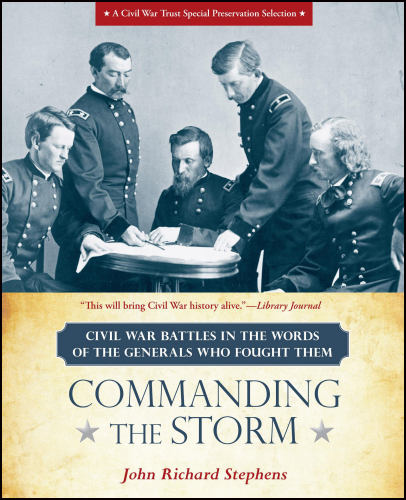 Lyons Press (Rowman & Littlefield Publishing Group), Lanham, MD, 2014, softcover.


Twenty-four of the Civil War's best-known commanders describe in their own words the twelve most famous battles of the war.

From Beauregard and Custer to Lee and Sherman, twelve commanders from each side vividly describe what they and their men experienced at twelve of the war's most legendary battles from Fort Sumter to Appomattox Court House in accounts gathered from letters, memoirs, reports, and testimonies. They relate noted incidents and personal triumphs and tragedies while covering strategies and explaining battlefield decisions.
Trench warfare at Petersburg and Sherman's scorched earth policy in Georgia foreshadowed the world wars to come, and technological advancements--such as armored steamships, landmines, and machine guns--literally changed the landscape of war. Submarines and a time bomb even came into play. Also discussed are notable tactics and technologies, including espionage, aerial reconnaissance, and guerrilla warfare.
Here, from the men who conducted and controlled it, is an invaluable source-book of what happened in the War Between the States and why. Relive the most important Civil War battles through the personal experiences of their most famous commanders.


The Library Journal says, "This will bring Civil War history alive."
Selected as a membership premium by the Civil War Trust.