The Dog Lover's Literary Companion
Great Writers and Artists Celebrate Man's Best Friend

Edited by John Richard Stephens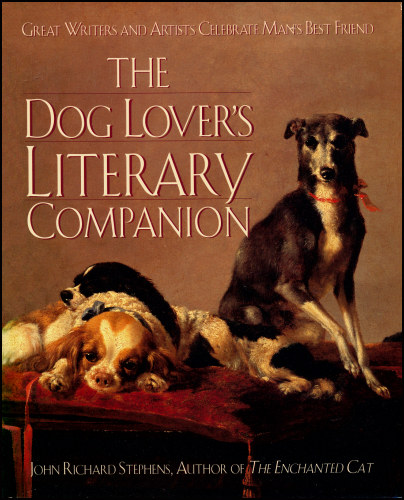 Prima Publishing, Rocklin, CA (now Penguin Random House), 1992, softcover.


Dogs have been praised throughout the ages for their faithfulness, loyalty, bravery, and warmth. John Richard Stephens, author/editor of The Enchanted Cat, has compiled a loving tribute to man's best friend by collecting the prose, poetry, artwork, and photographs of great writers and artists in one outstanding volume.

Sure to warm the hearts of dog lovers everywhere, The Dog Lover's Literary Companion features selections from: Napoleon Bonaparte, who relates a moving tale of a soldier's faithful dog standing guard over his master's dead body as it lay on the battlefield; Sting, whose lyrics present a dog's view of people; Farley Mowat, who recounts the noble characteristics of the wolves he observed; President Lincoln, whose poetry reveals his amazing insight into the nature of dogs and humans.
Also included is praise of dogs from such great literary figures as Shakespeare, Jack London, Rudyard Kipling, Lord Tennyson, D. H. Lawrence, Will Rogers, Edgar Allan Poe, William Wordsworth, O. Henry, Hemingway, Benjamin Franklin, John Muir, Robert Louis Stevenson, Elizabeth Barrett Browning, Mark Twain, Marco Polo, James Herriot, and a host of others.
Complementing the written praise of dogs and their qualities are skillful works of art by masters such as Rembrandt, Goya, Picasso, Manet, Monet, Renoir, Gauguin, and da Vinci; contemporary artists such as Donald Roller Wilson and Edward Gorey; and a sketch of two children with their dog, drawn by Queen Victoria.

Good Dog! magazine says, "If you're looking for true 'doggy' literature, stick with The Dog Lover's Literary Companion."