Vampires, Wine and Roses
Edited by John Richard Stephens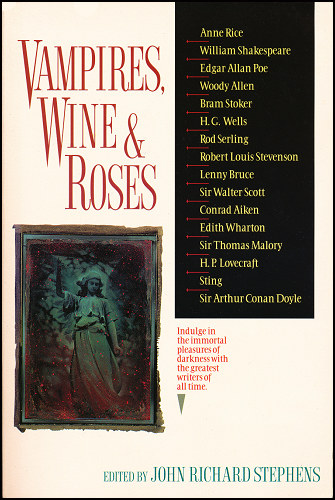 Berkley Books (Penguin Group, now Penguin Random House), New York City, 1997, softcover.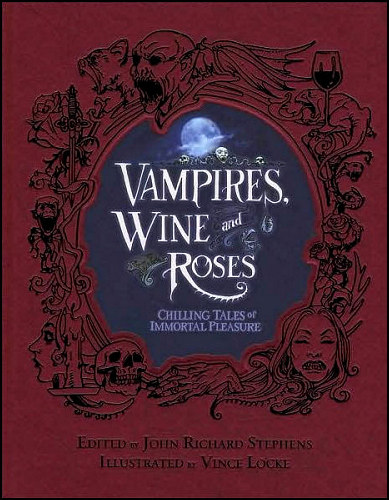 Metro Books (Barnes & Noble Publishing), New York City, 2008, hardcover.


This is a collection of vampire stories entirely written by famous authors--from Sir Walter Scott to Woody Allen--most of whom are not usually associated with supernatural literature. Thirty-one famous authors to be exact. Through extensive research, John Richard Stephens has unearthed many of these misplaced classics and gathered them together into a single book. The result is Vampires, Wine & Roses.

It includes works by Anne Rice (a short story and a rare vampire poem), Lenny Bruce, Sting, Sir Arthur Conan Doyle, Robert Southey, Edgar Allan Poe, Rudyard Kipling, Lord Byron, H. G. Wells, Ray Bradbury, Ivan Turgenev, Robert Louis Stevenson, Baudelaire, Jules Verne, Voltaire, John Keats, Guy de Maupassant, Alexandre Dumas, Conrad Aiken, Sir Thomas Malory, Thomas Hardy, Rod Serling, Goethe, T. S. Eliot, Edith Wharton, H. P. Lovecraft, F. Scott Fitzgerald, and, of course, Bram Stoker (a chapter that was cut from the vampire classic, Dracula).
Even the most ardent vampire fan will be surprised to discover that many of these classic authors actually wrote about vampires.


Nominated for the International Horror Guild Award, Best Anthology Award.
USA Today says, "Another timely literary offering is Vampires, Wine & Roses..."

The Straits Times from Singapore says, "There is no denying the lineup here is eclectic....The result is an erudite, quirky collection of writing."

The Virginia Quarterly Review points out that "Stephens's volume is a wonderfully entertaining bat's-eye view of our culture's continuing fascination with graveyards and bedrooms and the creatures who inhabit them both."