Wyatt Earp Tells of the

Gunfight Near the O.K. Corral

Edited by John Richard Stephens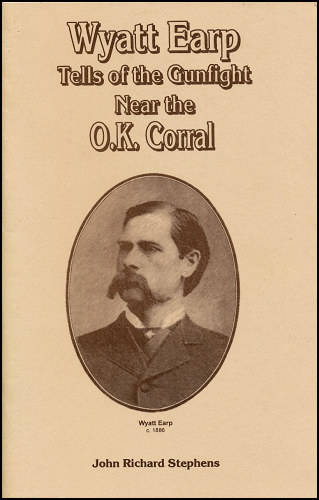 Fern Canyon Press, Cambria Pines by the Sea, CA, 2000, booklet.
First edition has perfect binding. The second edition is stapled.
This booklet explains the causes of the shootout and what happened during the fight and the bloody vendetta that followed. Much of this story is in Wyatt's own historic words. It also includes a detailed analysis of the gunfight with shot-by-shot diagrams and maps.

While most of this material is scattered throughout Wyatt Earp Speaks, this booklet pulls together the most important information and puts it in chronological order to provide a better understanding of what the most famous gunfight in Western history was all about.

This is an easy-to-understand explanation of what really led to the shootout, what happened during the fight, the aftermath of the fight--including the bloody vendetta--and how circumstances were distorted to make the Earps and Doc Holliday look like they were the criminals. There is also an analysis of the gunfight with shot-by-shot diagrams.

Discover how the gunfight actually began in Harwood's lumberyard and why it couldn't have taken place in the O.K. Corral, as some still claim today. Also find out why it's important that the fight didn't take place in the corral and how it was a stagecoach robbery, murder, and treachery that put the two groups on the collision course that ended in the deaths of eight men.

This an informative and enlightening examination of a significant event in a fascinating period of Western history.




"Bullets were flying so fast that I could not keep track of them. Frank McLaury had given a yell when I shot him and made for the street with his hand over his stomach."

--

Wyatt Earp


"Rich with detail," says The Tombstone Epitaph.